Capsule reviews of this year's Academy award nominees in live-action short films: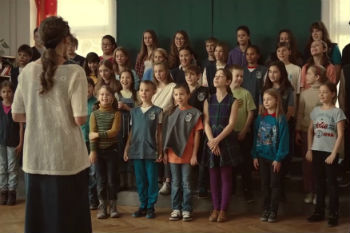 Sing (Hungary, Dir. Kristof Deák):
A beatific children's choir opens "Sing" with the kind of positive message that's the lifeblood of children's choirs everywhere: Our voices spread our wings / to grant your wish for a thousand beautiful things. Before long we discover the lie in that statement along with Zsofi (Dóra Gáspárvalvi), the new girl in elementary school. Zsofi yearns to be a part of the school's award-winning choir, especially after she strikes up a friendship with the popular Liza (Dorka Hais), the star singer. Choir leader Ms. Erika (Zsófia Szamosi) is happy to accommodate — pretty young children are always welcome in a choir — but only on the condition that Zsofi mimes instead of singing, since her singing isn't up to snuff and winning first place in the national finals is more important than anything else. It turns out other members of the choir have been given the same instruction, resulting in a flurry of revelations and retaliations.
Good times, bad times taking turns, the choir sings later, spelling out the overall thrust of "Sing," although the film maintains a gentle tone throughout. Based on a true story, the plot is thin, with the ultimate payoff a bit pat, but the child actors are endearing, and the best moments have a casual grace to them: Zsofi and Liza grooving to a classical piece on headphones, or Liza struggling to process the awful truth behind the choir's success. Like the kids it focuses on, "Sing" is unassuming, but sweet.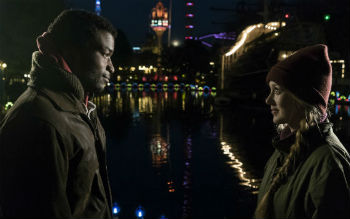 Silent Nights (Denmark, Dir. Aske Bang)
According to the bettors, "Silent Nights" is the favorite to take the Oscar this year, and it's not difficult to see why. It addresses a major issue of the moment (poverty-stricken refugees), it features a star-crossed romance, and visually it's quite a stunner, zipping back and forth between Copenhagen in all its wintry glory and the chaos of Old Fadama, Ghana. Bridging the two countries is Kwame (Prince Yaw Appiah), an African refugee collecting bottles in the streets of Copenhagen, and Inger (Malene Beltoft), the compassionate volunteer at the local homeless shelter who he gets involved with. Naturally their affair has its share of drawbacks, including Inger's racist alcoholic mother, Kwame's tendency to steal in order to make ends meet, and unbeknownst to Inger, Kwame's wife and three children waiting for him back home in Ghana. They may be a world away in terms of their background, but both are united by loneliness and hardship. "I live a very bad life," Kwame says at one point. "I have a very hard life too," Inger responds.
"Silent Nights" is about empathy and forgiveness, which is certainly a noble message; unfortunately, the script gets heavyhanded in the pursuit of that message. Both Beltoft and Appiah are likeable presences, but they're forced to chew on awkward English dialogue, and the movie is more focused on the hot-button topics (interracial romance, the travails of refugees) than providing them with realistic interactions. The film's most interesting aspect is how the act of caregiving passes between the characters. Inger's need to volunteer at the Salvation Army is an outgrowth of her failures with her ailing mother (the screenplay was written by Bang and his father, who has been stricken with cancer), which parallels Kwame's futile efforts to secure enough money for his family back home, leading to Inger's final decision to help Kwame (and carry his unborn son). Inger is near-saintly in her sacrifices, and it's to Beltoft's credit that she suggests the guts of a character behind the poses. In its portrait of desperation, "Silent Nights" is most definitely of the moment, which might be enough to secure it an Oscar, despite its narrative shortfalls.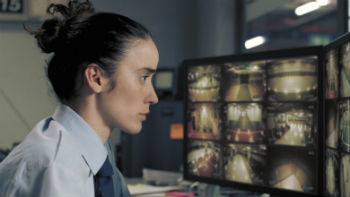 Time Code (Spain, Dir. Juanjo Giménez Peña):
The narrative of "Time Code" is as simple as it gets. Lali Ayguadé is a security guard working the day shift at an apartment parking garage, and she comes to learn through the multitude of monitors placed throughout the garage that her night-shift counterpart Nicolas Ricchini has been dancing up a storm in the garage during his shift. Soon they're flirting with each other via solo dance, each of their performances captured on video for their partner to discover on the next shift, a romance carried out on monitors. "Time Code" is essentially a brief bit of whimsy that finishes with a climactic dance explosion and a perfect final line from a befuddled rookie security guard: "I can't dance." It's a lightweight diversion that's also the most fun of all this year's entries.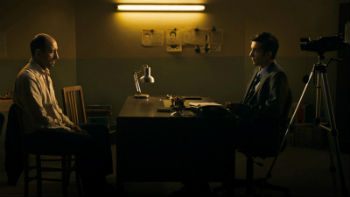 Enemies Within (France, Dir. Selim Azzazi): 
"Enemies Within" is a 25-minute movie that unfolds like a one-act play. Taking place during the era of the Armed Islamic Group attacks in 1996 France, the film is a two-hander between a longtime French resident from Algiers (Hassam Ghancy) seeking citizenship and his interrogator (Najib Oudghiri), who insists on probing the resident's past for evidence of associating with Islamic terrorists. Opening with an explication of the French national motto — liberty, equality, fraternity — the movie proceeds to tear down any notion of those three concepts representing modern France, as the interrogator's insinuations and threats chip away at the resident's pride and desire for fairness. "Do you belong here, or not?" the interrogator asks rhetorically at one point, and to "belong" is to capitulate, to give in to the hard-liners, to inform on seemingly innocent people. The interrogator and resident share the same ethnic background, and to the resident the interrogator may be just as much a victim of prejudice as he is — "To them you're just a homeboy, a nigger, a spook," he taunts the interrogator at one point — but in the end, the system holds all the cards.
If all of the above sounds frighteningly of the moment, it's no doubt intentional. Heavy on dialogue and tension, this is the kind of film that depends almost completely on the screenplay and the two actors. Ghancy and Oudghiri are effective portraying two opposing forces (or perhaps they're two sides of the same coin), and director/writer Selim Azzazi builds their confrontation to an uncomfortable intensity. "Enemies Within" may be just as topical as "Silent Nights," but to this reviewer, this film is the better, more incisive work.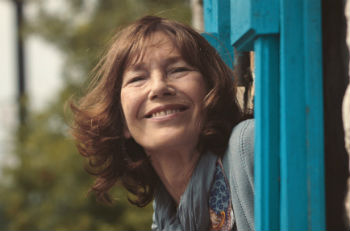 The Woman and the TGV (Switzerland, Dir. Timo van Guten):
Remember Jane Birkin? The "It Girl" of the late 60s in Blow Up, and erstwhile lover of Serge Gainsbourg? You might be shocked to find her in this cheery little confection of a movie (based on a true story), playing a crotchety widow. Mrs. Lafontaine (Birkin) has a circumscribed life in the hamlet of Monbijou, tending a bakery that no one visits any more (the chain bakery down the street has slashed prices). Annoyed by the dance studio across the street that blasts music through its windows, curt with the diffident young man who deigns to park his sports car in front of her shop, and alienated from her son, who grew up to be a frazzled IT worker who wants to stash her in a nursing home, Mrs. Lafontaine has seemingly nothing to look forward to. But she does have one daily highlight, or to be more precise, two: the moment in the early morning and early evening when the TGV express train passes right under her bedroom window. In the habit of waving her Swiss flag every day at the train as it passes by, she ends up catching the notice of the train engineer, who drops her a note one day as he whizzes by, inaugurating an unlikely pen-pal relationship. Mrs. Lafontaine is resolutely old-fashioned ("I've never sent an Internet before and I never will"), but against all odds, her correspondence with the engineer persists. She sends him truffles from her bakery; he sends her cheese collected during his travels.
"The Woman and the TGV," like "Time Code," reformats the concept of romance, but while the latter reimagines it as an exchange of video clips, "TGV" has a more decorous, chaste view, reintroducing the idea of written messages and presents. "I feel like I pass life as life passes me by at 185 miles per hour," writes the engineer, yet this is a film that unfolds at a leisurely pace, as slow as Mrs. Lafontaine on her bicycle as she peddles through the picturesque scenery on her way to town every day. Sadness and mortality are around the corner, but even a final mad dash to Zurich for a face-to-face meeting with her would-be paramour is presented as a playful odyssey, and the film's conclusion is a celebration of just getting on with life. In the wrong hands, this could all come off as a bit twee. Fortunately, the movie has Birkin on hand: obstinate yet radiant, she's as much a movie star as she ever was. Much like the croissants Mrs. Lafontaine fashions at her bakery, "The Woman and the TGV" is a tart treat with a lingering aftertaste of sweetness.